We live in an image-driven world, and it turns out images are even more attractive when they're moving. Video is the most common content format being spread organically, with people being twice as likely to share videos with their friends than any other media.
According to Wyzowl's latest State of Video Marketing survey, the average user spends 19 hours every week watching online videos, that's an increase of one hour from last year, and nearly double the 10.5 hours it was as recently as 2018.
The trendlines are clear – people watched around 14.6bn minutes of video last year, representing an increase of around 20% from 2020 and an increase of 121% compared to 2019, according to Wistia's 2022 State of Video report.
Most businesses – 86% in 2022 – use video as a marketing tool, up from 61% in 2016, while the percentage of marketers saying that video is an important part of their strategy has gone from 78% to 92% in the same period.
Virtually everyone who used video marketing last year – 99% of survey respondents – said that they would keep using video in their marketing strategy this year, and most of them will either keep or increase their spend.
The main reason? It works! Some 87% of marketers say video helped their ROI increase.
Covid-19 has been a major driver here – most marketers said that the pandemic, and the resulting increase in internet use, made them more likely to turn to video to attract audiences. Not only will video help increase traffic to your site, but the vast majority of marketers have also found that it increases users' dwell time.
Those who don't already use video are increasingly integrating it into their plans, according to Hubspot's State of Inbound Marketing Trends 2022 report, which found that 35% of marketers are planning to use video in their marketing for the first time this year. Around a third of them plan to invest more in video marketing than in any other channel.
Last year, video was the top format used in marketers' content strategy, and that is not a pattern that is slowing down any time soon. After having a strong year in 2021, marketers are set to use and spend even more on video content throughout 2022.
For Amazon sellers, we've seen a massive increase in popularity of over-the-top video content, with sellers also routinely using video as a means of boosting their conversion rates, or as part of their A+ content.
Types of marketing videos
One of the great advantages of video is how flexible it is as a medium. You can use it to advertise, explain, and implant ideas and values in a customer's head.
Types of video you can produce as part of your campaign include :
Brand awareness:
This one is less about the product and more about your brand itself. What do you stand for? What kind of relationship do you want with your customers? What can they expect when choosing you over a competitor?
You would also want to include information on your product, of course, but the main aim is to promote the brand so that the next time they see it, they take notice.
Product video or demonstration:
Show off your product! There is loads of leeway here in terms of how long you want to make it and how detailed you want the information to be.
It could be a very short, snappy piece just outlining the basic functions of your product – such as for simple, straightforward goods like kitchen utensils, DIY tools, or other products that don't need much explanation.
If you are selling a more complex piece of equipment such as a synthesizer or a piece of software that is more difficult to understand, you can create a more in-depth demonstration video, going through the functionality in detail, and even the unboxing to give customers a preview of their own experience once they buy.
Live stream:
Most social media platforms now feature some capacity for live streaming. It may require a bit more salesmanship and/or showmanship from whoever is hosting them, but you'll save a load of money on production costs – apart from maybe some overlay graphics, there is virtually no editing involved in streaming, and you can go as in-depth as you like.
Additionally, live video is ideal for audience engagement – when people know that you may be able with them in real-time, they will be more likely to interact. You can always have the recording available to show for people that missed the live show.
Customer testimonials:
You make the video, but it's your existing customers that do the selling.
The effectiveness of a customer testimonial goes hand-in-hand with your confidence in the product. If you're competing in a market where there's not much difference between your products and your rival's, this might not be the best choice.
If, however, you feel you can demonstrate that your product effectively addresses a real need that people have, then this is a great way not just to show off your wares, but to build trust.
After all, even when they know you're the one making the video, people always trust the word of past customers over anything else a company says.
Keep in mind that the longer a video is, the lower the engagement rate, according to Wistia. Sub-60-second videos have had the highest engagement rate, typically around 51% over the past few years, while videos lasting an hour or more have the lowest, between 16% and 17%. The engagement rate has not really changed at all in the past few years, however, suggesting that consumer tendencies regarding attention span are quite strong and likely to remain that way for the foreseeable future.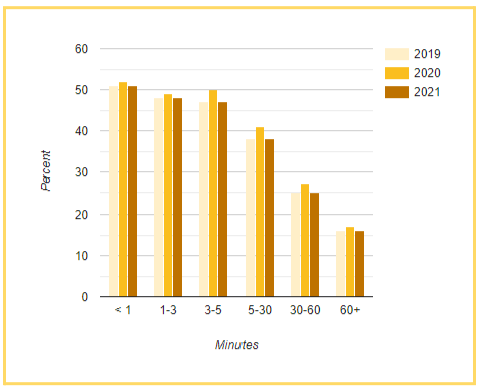 Average audience engagement by video length
Source: Wistia 2022 State of Video Report
Creating a Strategy:
Video is highly likely to yield a positive result even without a strategy in place, but given all the effort that you would be putting in, it would be a huge misallocation of resources to not have a plan.
How do you measure success? Who is your audience? How much will you spend? These are all things that you need to work out ahead of time. Otherwise, you will be running blind.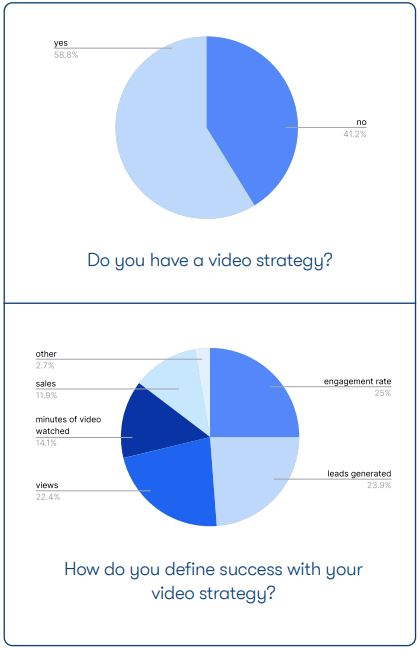 Source: Wistia 2022 State of Video Report
The first step is to determine what you want to do.
Set your objectives
Like in any marketing activity, the first thing is to determine what you want to achieve. Are you trying to increase brand awareness? Is there a new product you're trying to highlight? Have you received feedback on a particular service and need to better educate your customers on how to use it?
Just about every choice you make – from how to shoot the video, to how to edit it and where to show it – will flow from whether it gets you closer to achieving that objective, so make sure you have a solid understanding of what the goal is.
According to Wistia, the main goals that brands have given for using video are:
Driving brand awareness
Product education
Driving customer engagement
Generating leads
Driving sales
Highlighting company culture
The top goals tended to be at the top and middle of the marketing funnel – driving awareness and letting potential users and customers learn more about a product were the main objectives. Brand awareness is one of the first things to go up with the use of video, according to 93% of marketers, according to Wyzowl.
A major strength of the format is in its education potential – 94% of Wyzowl's respondents say that video helped increase user understanding of the offer. This also has the side benefit of freeing up time across other parts of the business – 49% of respondents to Wyzowl's survey said that video helped reduce their support calls, allowing them to better allocate their internal resources.
The ultimate goal of video marketing, of course, is to increase businesses – something at which it seems to be incredibly effective. More than 8 out of 10  marketers say video has contributed to a higher lead generation, while 81% said it directly led to increased sales.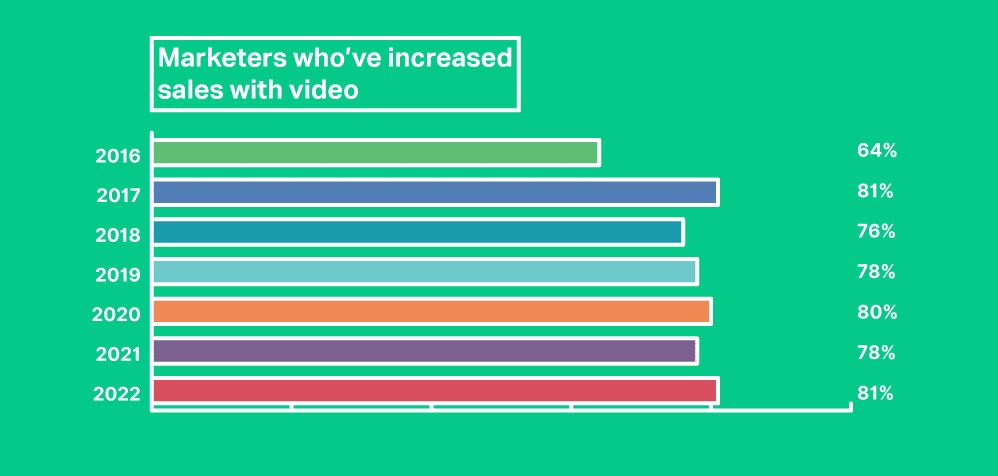 Source: Wyzowl The State of Video Marketing 2022
Select your audience
Once you know what you want to do, you can decide who you want to target.
Chances are you already segmented the market when you were creating your product or service in the first place, so you already have a rough idea of who you want to reach.
If you have a multi-pronged strategy that will have various videos on multiple channels depending on the product, then you will need to weigh the benefits of each channel (of which more is explained below) and think about who uses them and how.
For more generalized campaigns, however, that perhaps are just meant to reinforce brand association and values, you can broaden the message for mass appeal.
Establish your messaging
With your objective and audience in mind, the main question is, what are you trying to say? What is it you want them to come away with once they see your video?
Again, videos are most effective at the top and middle of the tunnel, at raising awareness and getting prospective customers to check out your products.
But a blindspot of the funnel approach has been that the process ends with the purchase – a customer buying an item was the ultimate goal, and once it's achieved you're on to the next one. There is no accounting for the potential momentum and word-of-mouth that can get those customers to promote your product themselves.
Hubspot's Flywheel model goes further than simply getting the customer to buy something. Its basic premise is to turn people that are strangers to your brand into promoters of your brand.
The model consists of three main stages, and your objective should determine at which stage your message should be focused:
Attract:
The first step in the process is to attract people. In relation to the funnel, this would be at the top – getting people interested and setting them on their buyer journey with you.
This is all about letting potential customers know that you understand the problems they're having. Your video should be partly aimed at building trust with your audience, introducing them not just to your product, but to your values as a business. Let them know you're someone they would want to do business with.
These could be concept videos, teasers, short demonstrations, brand films, or explainers that emphasize the fact that you know the problems they are dealing with.
Engage:
You've got their curiosity, now you want their attention. Here, you try to convert strangers into potential sales leads, and then into sales. You have to educate them about what you do and get them excited about the prospect of using your product.
How much easier, convenient, or just enjoyable would their life be if they bought what you're selling? Let them know! Give them all the information they need to make an informed decision that your product is best for them. Get that sale over the line.
These could be project demos, in-depth case studies, detailed explainers, how-to-videos, or webinars showing them the ins and outs of your product, and how much better of they will be once they make that purchase.
Delight:
The post-purchase experience. This is the main element that sets the flywheel apart from the funnel – you leave them with a good taste in their mouth and they will do some of the heavy lifting for you in terms of getting the next customer through your door. These could include thank you videos or onboarding tutorials in post-purchase emails, letting them know you're there to hold their hand even after they've given you their money.
Don't just make them come back for more, take care of them so they become brand ambassadors.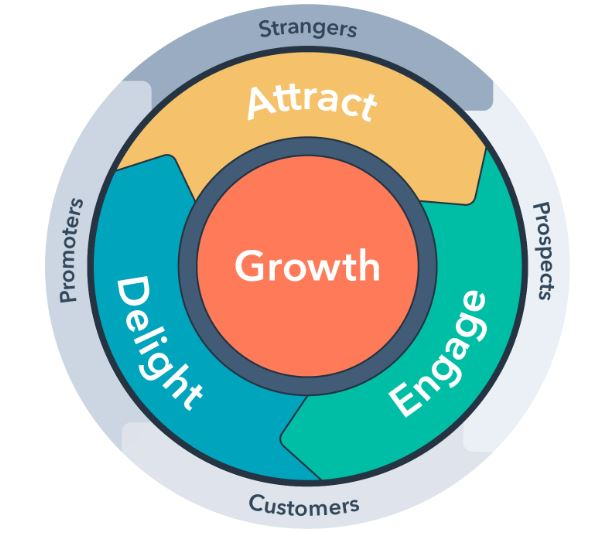 Source: HubSpot
In terms of video subject, the most engagement from audiences came from product videos, followed by webinars and social media videos. At the bottom of the list were sales videos and blogs. This highlights an important point that you should keep in mind – people don't generally like feeling like they're on the receiving end of a hard sell. Make the video interesting, highlight your product benefits, and entertain your audience, but don't try to force-feed them.
Source: Wistia 2022 State of Video Report
Select your budget
Making a video doesn't come cheap, especially if you want it well done. There's little point putting something out if it looks shabby – this means getting it professionally done, which is not something all companies can do in-house.
Your budget will be impacted by the time it takes to produce. As it is a collaborative effort, depending on the input of many people, there can be unexpected delays that need to be accounted for in the planning process.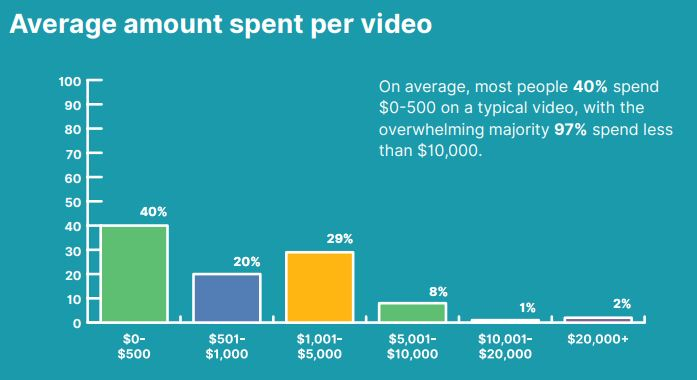 Source: Wyzowl The State of Video Marketing 2022
Select a channel for your video
Once you know your audience and how much budget you have to play around with, you can pick the best distribution platform. Realistically, you'll be spreading it across more than just one.
Factors you need to weigh up when making a choice include:
Budget:
Depending on the amount of available ad spend you have available, you can take advantage of different promotional prices on different channels.
Format limitations:
Some platforms will put limits on the size and sound of your content. If you've got a five-minute video, then you won't be able to spread it all over TikTok.
User behavior:
‍How do users on the platform usually act? What level of interaction do they typically have with content? Some platforms have far more active users than others, as well as functionality that lets them do much more than just leave likes or comments.
TikTok, for example, lets users stitch their own video on top of yours, adding user-generated layers and acting as a multiplier to your own efforts. YouTube, on the other hand, with its lack of a main user timeline, doesn't even really let users share other people's videos.
According to Hubspot (2022 report), the most popular channels for video content are:
YouTube:
No one is surprised here. YouTube is the undisputed king of video – 300 hours of video being uploaded every single minute and almost 5 billion videos watched every day makes YouTube not just the most popular video channel in the world, but the most popular site in the world full stop.
Facebook:
While YouTube is the largest video platform, Facebook remains the largest social media platform on the planet and the second most popular website on Earth, behind YouTube.
In addition to being shown on people's timelines, Facebook's videos tab is incredibly popular and five minutes can turn into a half-hour quite easily when users fall into the "rabbit hole".
Facebook also has a nearly unparalleled capacity for customer segmentation and targeting, allowing you to go after exactly the audience your video is meant for.
Instagram:
A platform originally made for still images, but perfectly designed for spreading video content. There's a reason so many influencers are made there.
The default way of doing things is simply to post a video on your account so it is shown on followers' feeds, but Instagram has seen tremendous growth in other features it has put in in recent years.
These include Reels – very short videos, typically between 15-30 seconds that are modeled after TikTok clips. Instagram has in-app functionality to let you add filters, adjust video speed, and add text – though for your purposes it's probably best to have the video fully edited and ready to go before you upload.
Like its parent company Facebook, Instagram also has Stories, which are roughly 15-second clips that only last 24 hours. While these have limited use by themselves, they can draw attention to longer videos that you may have on your profile, and can still be used to showcase super-fast product specs and add links to where they can find more information or make a purchase.
Twitter:
The original micro-blogging site. A lot of the focus on short-form content comes from the success Twitter has had over the years. It's typically used for written content, but images and videos spread like wildfire across Twitter – it is a hotbed of cultural and political content.
Throughout the pandemic, video consumption has exploded on Twitter – almost doubling between 2020 and 2022.
While there are no real limitations on how long videos can be, which gives you a lot of flexibility, it is still best to keep them short – no more than 15 seconds to maximize spreadability. That doesn't give you a huge amount of time to showcase your product, though, so it's best practice to start your video with your product and expand on your message from there.
You'll also want to show off your brand, so always include the logo in the corner of the video, and to maximize exposure you can pin the video to the top of your profile so it's the first thing people see when they go to your page.
LinkedIn
Your use of LinkedIn will depend on whether or not your product is for professional use – usually, this is not the best channel for most things you would be selling on Amazon, but its popularity as a vehicle for video marketing is growing quickly.
It's incredibly useful for videos in a professional context – if you're selling some kind of software that will make their businesses more efficient, if you've made an exciting new hire at your company, or if you've been showcasing a product at industry events.
It is also more conducive to longer-form videos such as tutorials or webcasts.
Other platforms include:
TikTok:
The favorite among Gen Z and the younger demographics, TikTok is made for rapid-fire, short attention span, and get-to-the-point content.
Part of what makes TikTok so popular is how casual it is – you don't want to go in overly professional with information overload. Keep it simple, keep it casual, keep it interesting and catchy.
No one wants to know how many pounds of force your phone case can withstand, but they would love to see what happens to it when you throw it against a wall. That's what you need to give them.
Social media is massively effective – there's a reason why so many sellers try to have a social media plan, and why Amazon has been keen to imitate the form through Posts. The downside is that you're competing not just against other products, but against everything else in the world that an individual user might be interested in. If you don't have something that will grab their attention immediately, you've already lost the battle.
Some best practices for social media are:
Visuals are king:
This one is obvious – if your video doesn't look interesting, there is plenty of other content that does, and they will move on. Focus on the visuals.
Short and snappy:
Do not rely on users having a long attention span. Within the first 10 seconds, they should know what your video is about and the main thrust of your message. If you don't hook them right away, or if you make them wait too long to get to the point, they won't hesitate before scrolling to the next video.
Silence is golden:
People don't just browse Instagram, TikTok, or Facebook from the comfort of their own home, but when they're out and about, as well. Make sure they can watch and understand your video with no sound at all – use text and subtitles to get your message across if videos are not enough, don't let your message go to waste.
Measure your effectiveness/success
So the hardest part is over, you've established what you wanted to do, who you wanted to target, and you've executed, but how do you know if you actually had an effect? How can you tell what all that effort was worth?
Which metrics are most important will depend on what your objective is, do you care more about expanding reach? Or do you want to focus on pushing people towards the sale?
Hubspot's report shows that the top metrics for video effectiveness are:
View count:
Pretty straightforward – this is how many times your video was viewed, a pretty broad measure for how. Keep in mind that what counts as a view is not always clear – on Facebook and Instagram, a view can be counted when at least three seconds of a video has been watched (but does not count loops as new views), while YouTube might only count it if someone has watched a video for 30 seconds.
Views should not be confused with play rate, which takes into account how many impressions – the number of times your video appears on someone's screen – you have per view.
Likes, comments, and shares:
Customer engagement is everything. If you can get the ball rolling, momentum will take it from there as your video spreads across the platform. It is, however, a double-edged sword – if something spreads for the wrong reasons, it will be very hard to slow down.
Lead generation:
Is the video resulting in sales leads? Is it turning strangers into potential customers?
Subscriptions and follow rates:
If you're gaining traction on social media, you will see an increase in the number of people subscribing and following your account. That means more impressions, which will likely mean more views, which means more chances to push them down the funnel.
Click-through rate:
This measures how many people go through the call-to-action you add to the video, typically some form of direct clickable link, as these are the easiest to track.
Your click-through rate is how many times people clicked through the CTA divided by how many times your video was viewed.
Conversion rate:
This is the one you ultimately want to get to – a conversion is a sale made as a result of people following your CTA. You take the measure by dividing the number of sales you drive by the number of times people click through your call-to-action.
Other measures:
Completions and completion rate:
Simply put, how many people are actually watching your entire video, and what percentage are they of the total amount of people viewing it?
This will give you an idea of how interested people are in what you've put out. If it's too low, you know you need to change some things around in the video itself.
Time-On-Page and bounce rate:
This one tends to apply more to having a video on your own webpage to see if your video has an effect on the amount of time users stay on your page.
If people are staying longer on your page, and the bounce rate – the number of people that are leaving right away – drops, then your video is likely compelling.
Demand for video is not going anywhere – audience hunger is outpacing marketers' ability to produce content, which means there's an enormous opportunity to supercharge your marketing efforts.
This is being accelerated even further by up-and-coming trends such as user-generated content – in which influencers and content creators use products in their videos to grow their own base of followers – and AR and VR videos.
Increasingly, smartphone-produced videos, which do not need expensive recording equipment or editing software, will make professional-looking videos more commonplace, and videos will continue to be an ever-more-important part of SEO strategies. Keep track of what others in your sector are doing and of what works – don't be afraid to experiment and test ideas to see which ones work best.
There are two things you can be sure of: video works and your competitors will be using it. You better not be far behind.
About us
Tva Media Group acquires, launches, and grows eCommerce software & services, and owns other stellar businesses including Old Street Media, HotShp, SellerBench, Tactical Arbitrage, Bindwise, RefundSniper, ChannelReply, and FeedbackWhiz.
Old Street Media supports businesses with their advertising, inventory management, and other eCommerce services. We collaborate with over 4000 brands and have generated $600M in sales in the past year.
Reach out to HotShp for help with product titles, descriptions, bullet points, social posts, and blog posts.
Reach out to SellerBench for help with shipment reconciliation and FBA fee reimbursements. 99% of FBA sellers are owed money. Get your free audit today.
If you are more interested in the #1 Amazon Arbitrage software, try TacticalArbitrage. With over 6,000 users, TacticalArbitrage will help you discover profitable products to resell on Amazon.
Bindwise will help you to identify costly issues with your Amazon seller accounts. Receive instant Bindwise Alerts about everything related to your store on Amazon.
RefundSniper is an international Amazon reimbursement service that runs audits on both Vendor Central and Seller Central. Find out how much you are owed by Amazon today.
If you're looking for a way to streamline multi-platform ecommerce support, ChannelReply has you covered. Cut your customer response time in half by having all your customer information in one hub.
FeedbackWhiz is an Amazon sellers management software that helps merchants scale their business by automating email campaigns, improving seller feedback, getting more product reviews, monitoring listings, and analyzing profit and accounting data.