Case Studies & References
​

Drive 

to

 

Retail
Background/Problem​
Rubbermaid was interested in launching their new  Reveal Mop system via DRTV. They turned 

to 

our media buyers 

to assist in their DRTV efforts with  the anticipation of a full-scale television 

roll-out, in  conjunction with widespread retail distribution.

​


Case Studies & References
Solution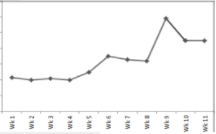 ​
Our team 

initiated and implemented a  scalable DRTV 

campaign, based on a series of  highly targeted media 

schedules, consisting of  national cable, syndication and 

network TV.

​

In the 6 weeks following the launch of the media  campaign, 

Rubbermaid experienced an impressive 

 

95%

 

lift in the POS $ 

Run Rate for their  Rubbermaid Reveal line.

​