Driving Online Sales
CHALLENGE​
A prominent e-commerce brand in a challenging category for TV could not break through and expand their reach and market share. Because many media outlets are weary of the category the company struggled to effectively connect with its audience.
APPROACH​
Extensive research using 1st and 3rd party data allowed us to define an audience and an approach to reach their audience. Our strategy focused on targeting an interest-based audience using video. Our team used a combination of competitive research along with compelling creatives to gain station approvals and take the brand to market on national cable and OTT.​
RESULTS​
By thinking outside the box, our team was able to vastly increase the client's station approvals, drive engagement and increase profitable sales among new customers through untapped outlets on national cable and digital platforms.​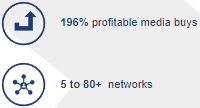 "Every $1 spent on the campaign generates over $2.2 in direct sales. "We've been delighted with our relationship with [TVA's media buyer]. We were able to grow one client's profitable media buys 196%!" ​
— Mary Ann Bautista, Bautista Direct Marketing, Inc.​