Case Studies & References
The Ask:​
Mathnasium tasked our team with managing the brand's TV and Paid Social Media.​
The Approach:​
Test-and-learn approach involved a single video creative for TV, and multiple creatives and landing pages for Paid Social, allowing for a robust optimization environment.
Campaign Variables / 

Landing Pages

​

​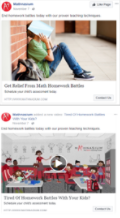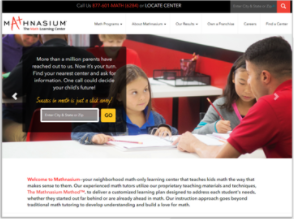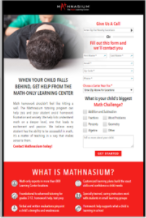 ​Driving to multiple landing pages
​The Challenge
Mathnasium developed an animated TV spot more 

appropriate to branding than direct response efforts.

​

With 700+ franchise locations, each with their own 

paid media accounts with limited to no visibility at the 

brand level, we were limited to driving traffic to the 

Mathnasium.com homepage. 

​

Because the majority of the franchises had not 

implemented call tracking on their center pages, there 

was a significant gap in measuring response.

​
​Initial Results
The TV mix began with a heavy presence on the News 

networks to ensure the high price point was in line with 

the parent/grandparent viewer. Results were not as 

strong therefore a stream of children and family 

networks were introduced.  

​

Initial Paid Social campaign drove 2,300 leads (form 

submissions) over the course of 3 months at a Cost Per 

Lead of roughly $156 and a click-to-lead rate of 2.9%.

​

Because we were not able to track calls to the Paid 

Social campaign, Mathnasium applied a 3:1 call to form 

submission ratio based on internal call volume, 

effectively reducing the Weighted Cost Per Lead by 

75% to $39.

​
​The Solution
After weeks of discussion, client agreed to provide our 

team with testimonial assets from their YouTube page, 

which we edited based on DR best practices and 

incorporated into the Paid Social campaign.

​

In addition, client developed a conversion-oriented 

landing page that prominently featured the form and 

reduced the number of steps necessary for the user to 

find their local Mathnasium franchise location.

​

​Optimized Results
TV CPA's were reduced by 55% over the initial 13 

weeks of the campaign as the lower cost children and 

family networks proved positive. 

​

Over the course of the initial four weeks of the 

optimized Paid Social campaign, over 1,700 form 

submissions were generated at a CPL of $49.

​

Addition of the conversion-oriented landing page 

resulted in an immediate 

57% 

improvement in 

performance, while the new testimonial video resulted 

in an additional 

48% 

improvement in performance over 

the animated TV spot.

​
CPL's began to come down by the third week, showing almost a consistent drop throughout the 17-week campaign  

​

A strong seasonality headwind was identified by mid-Nov, coupled with continued pressure on the remaining news networks 

due to the election, that resulted in a final shift in the media mix 100% towards the children's and family networks

​


The Outcome
Lead volume increased from 

an average of 191 Forms 

submitted per week to 432

​

Cost Per Lead decreased 

from $159 to $49

​

Conversion rate increased by 

roughly 3.5x, from 2.8% to 

9.7%

​